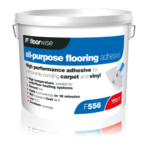 Floorwise has launched F556, a great all-round adhesive for sticking down most floorcoverings – click here for more information.
Made to stick down carpet, LVT, PVC, sheet vinyl, cushioned vinyl and rubber floors, there's no doubting the all-round status of floorwise's brand-new F556 all-purpose flooring adhesive. But as is always the case with floorwise, there's more to this adhesive's story than holding down floors.
F556 has been developed for wet installation and fast-tack allowing the installation of floorcoverings in as a little as 10-minutes, helping to reduce time on-site while still allowing sufficient open time. And as low VOC and solvent-free formula, it's also more pleasant to use as well.
With a high bond strength and hard set once cured, it's F556 ability to tackle a huge range of installations that makes it a great everyday solution for installers that are always on the go. As Richard Bailey, managing director, explains this versatility doesn't come at the cost of reliability or value:
"We've formulated F556 not only to be versatile, but also to deliver a reliable and consistent high strength bond from every tub. Sticking down a huge range of floors, F556 upholds our mantras of quality and value, bringing excellent coverage rates."
Suitable for use with underfloor heating, F556 all-purpose flooring adhesive is available from local floorwise distributors across the UK and Ireland.
For further information on these and other great flooring products contact Floorwise on 01509 673974, visit www.floorwise.co.uk or email wiseup@floorwise.co.uk