F556 All-Purpose Flooring Adhesive
This all-purpose flooring adhesive is an acrylic based, high temperature, solvent free adhesive making it ideal for use in rooms with high sun exposure or with underfloor heating systems. Its low VOC formulation is designed to give excellent initial grab and provide a high quality, durable bond when dry.
F556 is suitable for permanently bonding carpets, carpet tiles and vinyl floorcoverings on to a wide variety of subfloors.
Coverage: approx. 50–60m² per 15kg bucket
● Excellent initial grab
● High performance bond
● Great coverage
● Easy application
● Ideal for use with conservatories and underfloor heating systems
● Low VOC
Product Data Sheet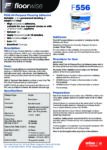 Safety Data Sheet