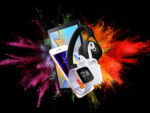 Flooring's biggest rewards promotion is now here thanks to floorwise.
floorwise has unlocked the door to more than 60 gifts in flooring's biggest rewards promotion. Now on at floorwise distributors across the UK and Ireland, installers can earn points on floorwise brand products.
Covering carpet underlay, wood, laminate and LVT underlay, grippers, profiles, adhesives and screeds, the promotion is your chance to earn every time you install using the great value and quality of floorwise. With rewards from smart speakers to TVs and wine to coffee machines, flooring's biggest promotion is packed with all the gadgets you want but can't always justify.
You can register for the promotion at floorwise-rewards.co.uk, where you can upload invoices for verification, view qualifying products and check out the rewards. The promotion is open to existing and new account holders.
Richard Bailey, managing director, floorwise; "We wanted to say thank you to all the installers and fitters relying on our products on jobs right across the country. The promotion seems a great way to share our appreciation and recognition for the continued loyal support."
The promotion runs until June 30 so there's plenty of time to get your hands on that 50" LED TV or brand-new iPhone. For more details on the promotion and how to take part visit the special rewards website at floorwise-rewards.co.uk
For further information on these and other great flooring products contact Floorwise on 01509 673974, visit www.floorwise.co.uk or email mailbox@floorwise.co.uk