The news that floorwise products and services have scooped accolades from the industry's most recognised awards, provides you with even more reason to trust in our value and quality.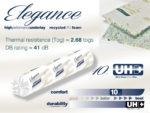 Our premium Elegance recycled PU underlay is a Flooring Innovation Award Winner thanks to its lasting underfoot comfort. Elegance is a great choice for fitters looking for a high-quality underlay in discerning residential installations. We've also seen the readers of Contract Flooring Journal vote for us as an Underlay Manufacturer Finalist, demonstrating that whether you're installing in homes or businesses, then floorwise has the right underlay for the task.
Pro-Screed Gold, our versatile self-levelling and moisture-tolerant smoothing compound, has become one of the best-selling floorwise products. We were delighted that Tomorrow's Contract Floors has recognised it as a product relied upon by professionals around the country with Finalist status in its annual awards.
Finally, rounding out the awards for 2020, comes our Wholesaler of the Year award from Interiors Monthly. This celebrates our committed and independent local floorwise distributors who go above and beyond to serve installers right across the country with the great value and quality of floorwise brand products.