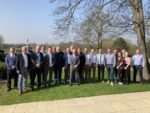 For the first time since the COVID -19 lockdown was implemented in 2020 the Floorwise Group were able to hold their face to face AGM on the 24th March 2022 at The Belfry.
It was great to see such a great turnout of floorwise Members for the meeting which saw a number of exciting new product and business development opportunities for the business discussed.
Equally important was the ability to meet so many colleagues in person the day before. Although the floorwise members have continued trading throughout the pandemic – and have held remote meetings via Teams and Zoom – it doesn't offer the same benefits as being able to meet in person.
For new Members of the floorwise family like STS and Ruggers Floorwise Wales – as well as new Group Product Manager, Andrew Gill – it offered a great opportunity to meet socially with other Members of the Group as well as to help shape the business for the future.
Speaking after the meeting Andrew said that it was fantastic to be able to meet so many members of the floorwise Group in person and find out more about their businesses and their views on the benefits of being part of the floorwise Group.
After the close of business we took a photograph of all those floorwise Member present for the AGM overlooking the 1st Tee of the World famous Brabazon Course.
With such a great membership it's no wonder that fantastic floors start with floorwise.